Sustainability during your event
As the organiser of a festival, a sporting event or any other kind of festivity, you are under a certain number of obligations regarding the recycling of the waste you will inevitably generate. The best way to ensure the field hosting your festival, your sports ground or your concert hall remains clean is to draw up a sustainable waste plan. Our years of expertise in this field mean we are your ideal partner in this. Naturally, we will also ensure logistical assistance. There is nothing left to stop you from organising a sustainable event!

Total Waste Care for Events
Vanheede Environment Group guarantees you a sustainable waste management plan suited to your event, based on the Green Loop model. This means we will work with you to close the circle as tightly as possible and recycle your waste in an optimal way. This begins, quite naturally, by sorting waste at source, which needs to be well organised. Total Waste Care is an approach which consists of drawing up a collection and removal plan for the various waste streams for you. With carefully thought through management and an efficient operation, you can reduce the volume of residual waste by as much as 40%. That's not only good for the environment; it's also good for your purse. So what are you waiting for?
Logistics optimisation
An event generates many types of waste: when setting up and taking down, during the event itself, catering-related and in the car parks etc. We pride ourselves in organising the best possible logistics for each phase and in each zone to keep the impact on your visitors' experience to the strict minimum.
Dranouter Festival: from 1 kg to 0.68 kg of waste per festival-goer
The Dranouter Festival won the GroeneVent Award in the "large events" category. The award is an initiative of the Flanders Public Waste Agency to encourage sustainability at events. We are convinced that Vanheede Environment Group – which has been managing waste at this family festival for several years now – contributed significantly to this achievement. Together with organisers, we managed to reduce the average weight of waste generated by a festival-goer from 1 kg to 0.68 kg. It is a win-win situation - the mountain of waste is reduced and the organiser's bill too!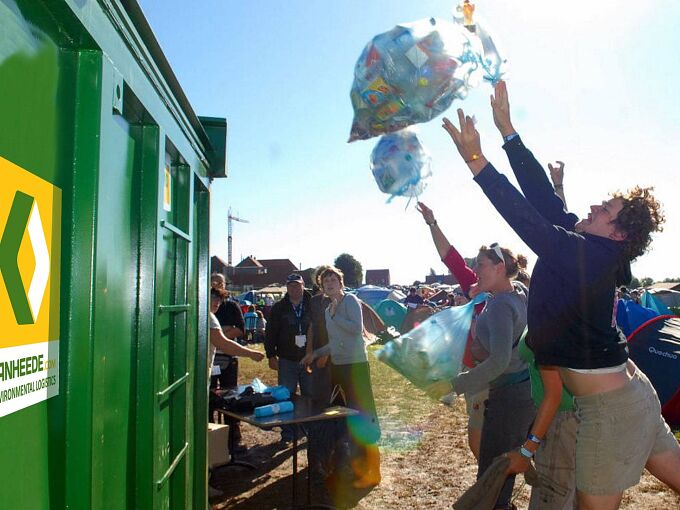 The waste streams you are likely to generate
Choose from the waste streams listed below. We will show you at once which bins are suitable and what we will do with your waste.
Bins for your event
Our broad choice of services can always help you ensure the sustainable management of your waste. Always choose a bin to match your needs - or challenge us to do so!