Waste management in the medical sector
As a medical practitioner, you need a reliable partner when it comes to managing your medical waste. Whether you work in a hospital, run your own surgery or are a self-employed district nurse, you can rely on Vanheede Environment Group's tried and tested solutions for sorting and treating waste arising from caring for humans or animals. Feel free to ask us about the options for your surgery.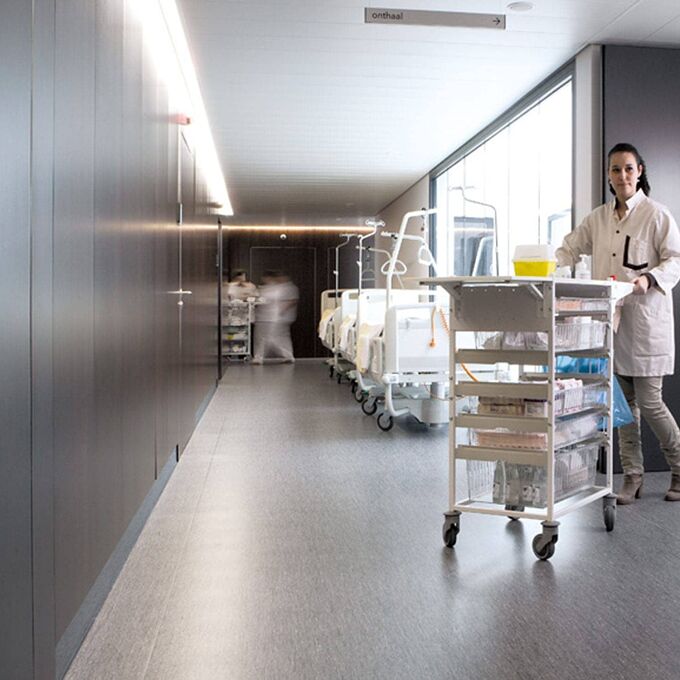 Controlled management of hospital waste
With hospitals, Vanheede Environment Group uses the Total Waste Care method. By sorting waste at source, we are better able to recycle and reuse it. Non-recyclable residual waste is going to become more and more costly. In addition, hospitals have to deal with a relatively large percentage of hazardous medical waste. This accounts for 10 to 15% of all hospital waste but close to 50% of waste-related costs. Vanheede Environment Group helps to keep your waste structure under control!
Hygiene, confidentiality and traceability
In hospitals and surgeries it is essential to avoid contamination and wounds. So we also make sure that your medical waste is kept apart from other waste in a safe and hygienic way. Furthermore, all your specific and hazardous waste streams are 100% traceable. As well as hygiene, confidentiality is also important. When it comes to destroying your confidential documents, you can also count on Vanheede Environment Group.
For your surgery too
A successful medical surgery requires you to put in enough hours that you should not have to worry about dealing with daily (medical) waste as well. Vanheede Environment Group provides you with a clear assessment of your waste streams and the appropriate type of bins for that waste as well as suitable approaches for the various types of waste. Naturally we pay particular attention to medical waste such as empty bottles, syringes, (expired) medication, blood and its derivatives (tubes and blood bags etc.) and anatomical and pathological waste. But in your surgery you also generate a lot of non-hazardous medical waste: plaster, uncontaminated bandages and disposable gloves etc. These fall under the umbrella of residual waste. For these too we provide clean and hygienic solutions.
The waste streams you are likely to generate
Choose from the waste streams listed below. We will show you at once which bins are suitable and what we will do with your waste.
Bins for your medical waste
Our broad choice of services can always help you ensure the sustainable management of your waste. Always choose a bin to match your needs - or challenge us to do so!